Dental Implants: Aftercare and Diet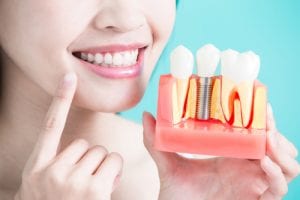 Getting dental implants can be an involved surgical process, especially if you are replacing most or all of your teeth. Like most surgeries, the recovery process that follows can affect the quality of your results.
While dental implants are placed, most people experience the majority of their discomfort during the placement of the implant itself. Carefully following postoperative care instructions will help ensure a fast and easy recovery, as well as results that are aesthetically pleasing.
Take Your Prescribed Medications
Unfortunately, there will be some postoperative discomfort associated with the placement of dental implants. To help ease the pain, you will be prescribed painkillers. Making sure you are taking the right dosage of your medication at the right times will help minimize your discomfort significantly. Additionally, antibiotics are also administered to prevent any infections from developing during the healing process.
Dietary Restrictions
Your mouth will feel tender following dental implant placement. In the first 48 hours, you may be limited to liquids and foods that do not require much chewing. Avoid excessively hot food, spicy flavors, and alcohol, as your mouth may be sensitive to these types of conditions. Drinking anything through a straw should also be avoided as the suction process can put unnecessary stress on the tissue.
Common snacks recommended eating after surgery include applesauce, pudding, or Jell-O®. For the first week, you should limit yourself to soft foods such as:
Mashed potatoes
Soup
Pasta
Creamed cereals
Keeping Your Mouth Clean
You should maintain a proper hygiene routine but leave the implant alone as it heals. Brush your teeth following every meal using a soft bristled brush and toothpaste recommended by your dentist. Try to avoid using abrasive or whitening agents, as they may be harmful to the healing process. Bleeding may occur for several days while you brush your teeth, but keeping your mouth clean will help ensure proper healing.