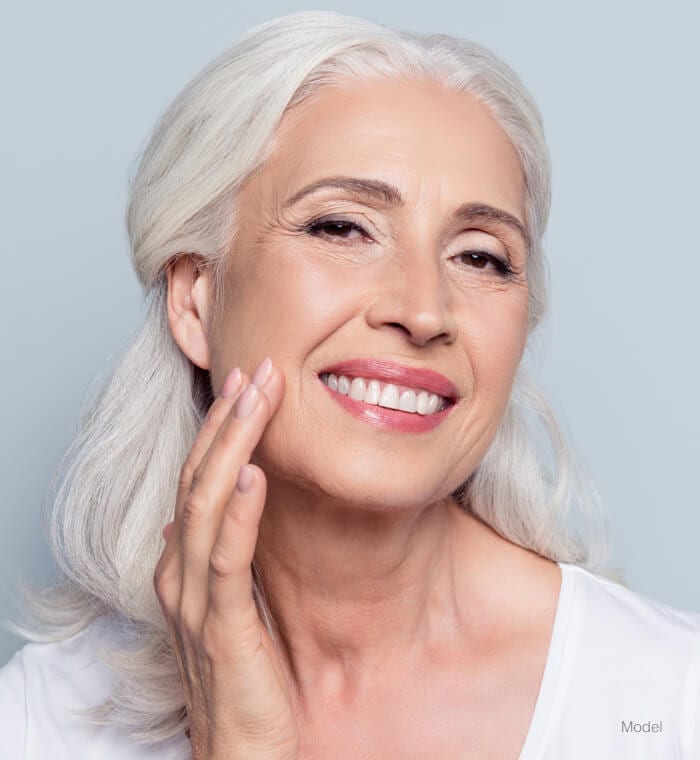 Periodontal Disease
Healthy teeth begin with healthy gums. A healthy smile is aesthetically pleasing as well as vital to your overall well being. If your gums have become red and swollen, you may have developed periodontal disease, which can eventually lead to tooth loss. Maintaining proper oral hygiene and periodontal care are recommended for aiding in the prevention of gum disease and complete care of your mouth.
Schedule a Consultation
What Is Periodontal Disease?
Periodontal (gum) disease results when bacterial infections form in the gums and tooth-supporting bones. The bacteria from plaque cause the gums to inflame and bleed. If left untreated, gums can separate from the teeth to form infected pockets that collect bacteria and continue to destroy gum tissue and bone. This eventually leads to tooth loss. Periodontal disease can be limited to one tooth or can affect your entire mouth. Dr. Salamati offers surgical treatment options for those with more advanced cases of gum disease or to correct gum issues that often lead to periodontal disease.
Periodontal Disease Causes
Bacterial plaque
Smoking/tobacco use
Diabetes
Genetics
Pregnancy and hormonal changes
Stress
Medications
Grinding your teeth
Diabetes
Poor nutrition
Types of Periodontal Disease
Gingivitis Periodontal Disease
Gingivitis is the mildest form of periodontal disease and can be reversed through professional treatment and proper oral maintenance. It can cause the gums to turn red, swollen and to bleed easily. Patients who struggle with gingivitis experience little or no discomfort.
Aggressive Periodontitis
Aggressive periodontitis is characterized by rapid attachment loss and bone destruction, that can even occur in patients who are otherwise clinically healthy. This form of periodontitis is more common in patients with a family history of the condition.
Chronic Periodontitis
Chronic periodontitis results in inflammation between the supporting tissues and the teeth and is characterized by pocket formation. It is the most frequently occurring type of periodontitis. While this disease is most common in adults, it can develop at any age. Progression of attachment loss usually happens slowly over time, and then rapid progression begins to occur.
Periodontitis as a Manifestation of Systemic Diseases
Periodontitis begins to develop at a young age is associated with many systemic diseases, such as diabetes.
Necrotizing Periodontal Diseases
Necrotizing periodontal diseases is an infection related to necrosis of gingival tissues, periodontal ligament, and alveolar bone. These lesions are usually common in individuals who struggle with systemic conditions such as HIV infection, malnutrition, and immunosuppression.
Prevention of Periodontal Disease
Good oral hygiene is the best way to prevent gum disease. This includes consistent brushing and flossing as well as regular dental visits and cleanings. Other ways to prevent periodontal disease include cutting down on smoking (and other tobacco use) and maintaining a healthy lifestyle. Maintaining a balanced diet and a good immune system can also prevent you from developing periodontal and other systemic diseases linked to the condition, such as diabetes. Make sure to also avoid clenching or grinding your teeth. Dr. Salamati can discuss this in more detail during your consultation.
Surgical Treatment Options
Pocket Reduction
(Osseous Surgery) Pocket Reduction
(Osseous Surgery)
Pocket reduction surgery removes tartar and disease-causing bacteria from the tooth roots while reducing the pockets that cause periodontal disease. During this procedure, the roots are cleaned, and the bone around the tooth is reshaped. This technique is often the treatment of choice for more advanced periodontal diseases.
Regenerative
Procedures Regenerative
Procedures
Guided bone regeneration (also known as guided tissue regeneration) can now be used to treat gum disease. During this procedure, the pockets of degenerated bone are cleaned, a bone graft is placed, and a membrane is inserted to separate the soft tissue and the pocket. This allows the bone to "regenerate" and grow, and stabilizes the teeth, or in cases of tooth loss prepares the jaw for implants.
Crown
Lengthening Crown
Lengthening
Aesthetic:
In cases where there is an excessive amount of gum, the extra tissue not only results in an undesirable "gummy smile" but can also diminish the patient's ability to brush and floss properly. This can lead to gum disease. For this procedure, small incisions are made around the gum tissue to reshape the tissue and bone. This will result in a more aesthetically pleasing smile.
Functional:
Crown lengthening can help save teeth that are decayed, broken, or below the gumline or have insufficient tooth structure for a crown. This procedure adjusts the gum and bone level to expose more of the tooth so it can be restored. Many teeth can be saved by this procedure and an implant can be avoided.
Soft Tissue
Grafts Soft Tissue
Grafts
Receding gums is one of the symptoms of periodontal disease. Your gums are the first defense against bacteria, and when they recede, you lose that protection. Also, gum recession can be unsightly and lead to root sensitivity. Tissue grafting is used to reconstruct receding gums. A thin piece of tissue is removed from the roof of the mouth and positioned around the tooth.
Non- surgical
Options Non- surgical
Options
Surgical treatments are reserved for cases in which non-surgical services are no longer viable. Non-surgical therapy may be recommended if your gum disease is limited to gingivitis and mild to moderate forms of periodontitis. Typically, treatment will begin with a thorough cleaning that includes scaling and root planing (deep cleaning) to remove plaque and tartar beneath the gum line. Tooth roots can then be smoothed to allow the gum tissue to heal and reattach to the tooth. During this time, antibiotics may be prescribed to aid in the healing process. Dr. Salamati offers the following non-surgical treatments>
Frequently Asked Questions
Healthy gums are the foundation of a beautiful smile and maintaining your overall health. If you have questions or concerns about gum disease and your treatment options, contact us today to schedule a consultation.