Most of My Teeth Are Missing: What Are My Options?
3 Minute Read: 
It is common for men and women to lose one or more teeth due to gum disease, genetic conditions, severe tooth decay, or injury. Regardless of the reason, missing teeth (whether it is a single tooth or most of your teeth) can affect your smile, teeth alignment, and ability to chew or speak.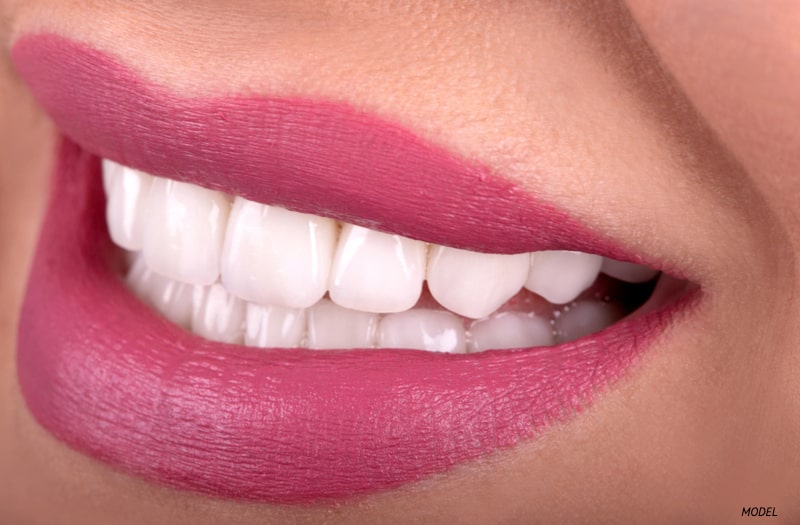 Because of these functional and aesthetic complications, many people with missing teeth wonder what their tooth replacement options are.
If you relate to this, we offer several tooth replacement options to help restore your confidence and a beautiful smile.
1. Individual Dental Implants
A dental implant is a surgical procedure that involves inserting screw-like titanium posts (implants) into your jawbone. These implants bond (fuse) to your jawbone and become a new artificial tooth root. For this reason, they provide the appearance and feel of a natural tooth (teeth).
Dental implants last long, making them incredibly reliable for replacing a single tooth or replacing all of your teeth. They are an excellent and more comfortable alternative to removable dentures.
You can learn more about your dental implant cost by clicking here.
Replacing your missing teeth with dental implants can be a lengthy/multi-step process that involves drilling your jawbone and waiting for the implant to fuse to the bone. However, once it does, dental implants are the closest thing to a natural tooth. 
2. Implant-Supported Bridges/Dentures
Implant-supported bridges or dentures are suitable for replacing several teeth along your jawline. 
They also look and feel like natural teeth, giving you an authentic natural look. Most importantly, they are as effective as dental implants.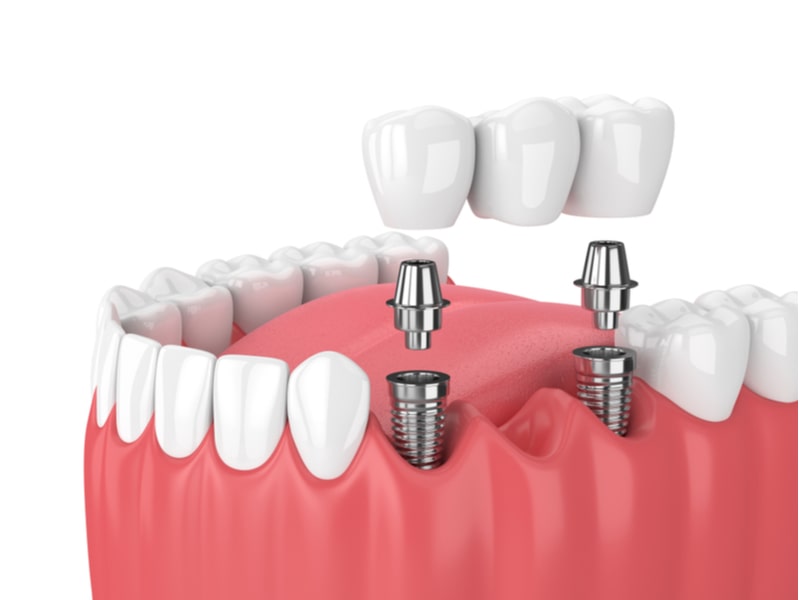 3. Removable Partial Dentures
A removable partial bridge or denture entails replacing several adjacent missing teeth. Unlike implant-supported dentures or bridges, partial dentures do not require implants to be fixed into the jawline. 
While removable dentures do restore aesthetics and function, they do not have the strength of dental implants and require removal every night. 
However, if you are looking for a more simple and cost-effective option (as opposed to implants), a removable partial denture can be an ideal option. 
4. Removable Full Dentures
A complete denture is a tooth replacement option for individuals missing most or all of their teeth. These dentures are removable appliances that look and mostly function like natural teeth. 
Dentures may require adjustments to give a proper fit during the healing process. But they offer an excellent way to restore your smile and confidence. 
Patients are required to remove these every night. 
What Are Some of the Issues of Removable Partials or Dentures?
Removable partials or dentures are reliable tooth-replacement methods for missing teeth. Unfortunately, they come with some issues (opposed to dental implants) that include:
Jawbone deterioration

Less durable than dental implants or bridges

Uncomfortable to wear for extended periods
Are You Missing Some or All of Your Teeth?
Dr. Salamati is an experienced, certified, and highly qualified dentist committed to providing the best single tooth, multiple, or full-mouth treatment options. 
He understands that losing some or most of your teeth can significantly impact your quality of life and confidence.
If you want to replace your missing teeth, contact us today at (310) 275-1090.