What Is Dental Scaling and Root Planing?
2 Minute Read: 
Regular dental care isn't just about cleaning. Sometimes special procedures are called for to prevent cavities or gum disease. 
Dental scaling and root planing (deep cleaning) are traditional manual methods for cleaning teeth and their roots. Despite new dental technologies and innovations such as laser cleaning, these old school methods offer the dental hygienist a great degree of control and precision, and it is the most studied and proven method, which is why they remain common and popular dental procedures.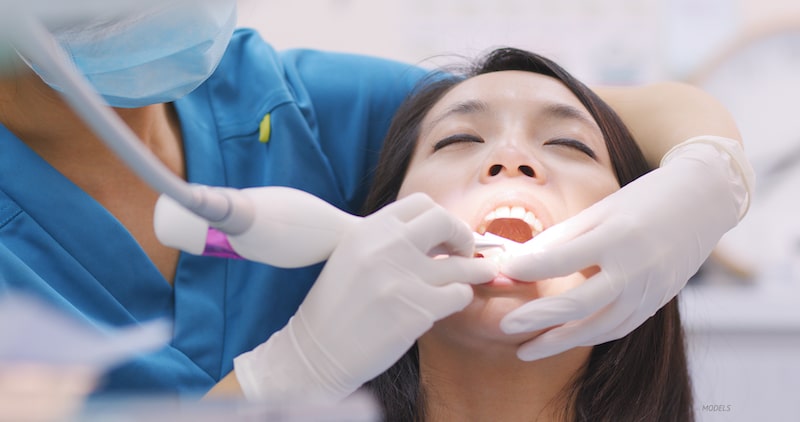 What Are the Advantages of Preventative Dental Care?
Holding off problems before they become more serious is an important reason to schedule regular dental cleaning sessions. These allow your dentist and dental hygienist an opportunity to assess teeth and gums with your personal history in mind. Often, minor interventions, such as dental scaling and root planing (deep cleaning), can ensure the continued health of your gums, which becomes more important as you age. 
If you would like to grow old with healthy teeth and gums, at the earliest sign of periodontal disease dental scaling and root planing (deep cleaning) are highly recommended.
What Is Dental Scaling?
During this procedure, a dental hygienist uses a thin metal tool called a scaler to access and remove the built-up plaque and tartar deposits that brushing and flossing often cannot reach. This includes hardened plaque down to the bottom of the pocket (in cases with more advanced states of gingivitis or periodontitis). This process is not painful, but scaling can sound and feel strange while being done. 
Afterward, teeth will feel smooth and better defined. This treatment is also very important for keeping gums healthy and gingivitis and periodontal disease at bay. 
What Is Root Planing?
Going a little deeper below the gum line to address plaque deposits and build-up on the roots of your teeth, root planing can help restore the balance that keeps teeth and gums healthy and free from disease. This process helps to smooth and remove the bacterial plaque and calculus (tartar) from the roots so that the gums can heal and reattach to the teeth. 
A local anesthetic is generally required with this procedure as dental roots are filled with sensitive nerve endings. 
The procedure can actually help correct periodontal disease in its early stages by encouraging root and gum to reattach. Be sure to ask your dental hygienist for after-care advice and between visit protocols.
Interested in Scaling and Root Planing?
If you are in the Beverly Hills, California, area and would like to know more about preventative and corrective dental care, get in touch with the professional team at the office of Afshin Salamati, DDS, MS. They can answer all your questions about dental scaling and root planing (deep cleaning) and other dental procedures and book you in for an appointment or consultation. Call 310-275-1090 today, or use our online contact form today.