What Types of Dental Implants Are There?
3 Minute Read: 
People who have lost teeth often have many functional and aesthetic concerns. Most individuals feel insecure and are too self-conscious to smile, eat or talk confidently.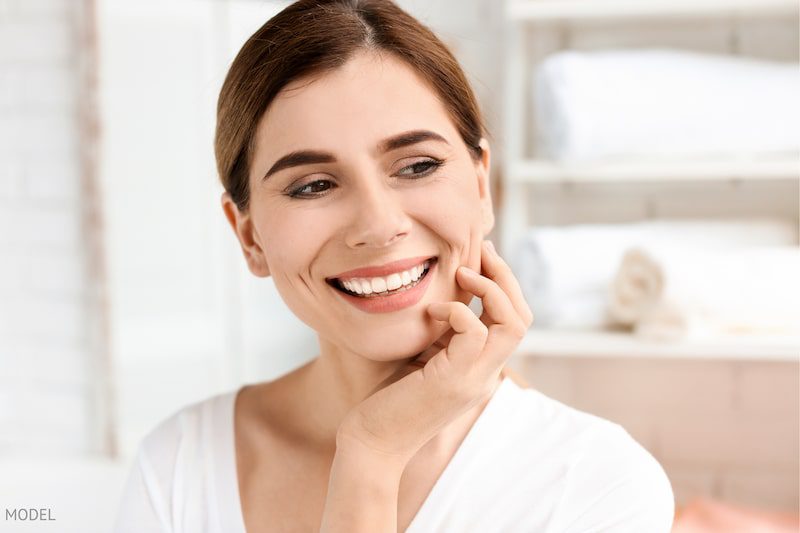 Fortunately, dental implants provide a complete restoration option for missing teeth, allowing patients the opportunity to look and feel their best for several decades.
Dental implants have many benefits, including natural teeth function, improved speech, maximum comfort, and increased durability. These benefits have helped dental implants become one of the most popular tooth restoration procedures in the country.
What Are the Different Types of Implant Materials?
If you are considering dental implants, it's important to understand your options. The two major types of implants are titanium implants and ceramic implants.
Titanium vs. Ceramic Dental Implants
While both titanium and ceramic dental implants work and are constructed similarly, they are made of different materials that may appeal to different patients. 
While they may appear similar, there are many differences between them in terms of cost, healing time, and how long they last. Both types of implants are proven to be successful, but there are more long-term research studies on the success of titanium implants.
Titanium Dental Implants
A titanium implant and restoration typically comes in three pieces: the titanium implant post, an abutment, and the restoration. During surgical implant procedure, the titanium post is surgically inserted into the jawbone. After the appropriate healing time, an impression or scan of the implant is taken and a custom-made restoration (implant crown) is fabricated and installed.
Titanium implants provide durability and long-lasting strength. They are better resistant to crack or fractures and are ideal for patients with a habit of grinding or clenching their teeth.
Ceramic Dental Implants
Ceramic implants are a newer form of an implant made entirely of ceramic, such as Straumann® Ceramic Implant Systems. 
They offer an excellent option for those who may be allergic to metals and titanium or prefer to have a metal-free implant.
The biggest draw to ceramic implants is that both the implant and the crown restoration are metal-free, which is important to many of our patients interested in a more holistic approach. They easily blend in with natural teeth for an aesthetically pleasing finish to your smile.
Ceramic implants are inserted and restored in the same manner as titanium implants. 
But Which Type of Dental Implant Is Best for Me?
Are you considering getting a dental implant but are unsure of which material will work best for you? 
Both implant styles work very well. In the end, it all depends on your personal preference as well as your doctor's recommendation on the best material that works for your dental needs.
Interested in Learning More About Dental Implants in Beverly Hills?
If you have any questions about dental implants or would like to schedule a consultation, feel free to contact us at 310-275-1090 or fill our online form. 
We look forward to giving you the best dental care possible.