When Should I Choose Crown Lengthening?
2 Minute Read: 
Crown lengthening is a dental procedure that improves the beauty of your smile and/or assists the preparation for dental restorations. Crown lengthening is a very popular method for enhancing your dental cosmetics (and occasionally function), but many patients don't know why it is important.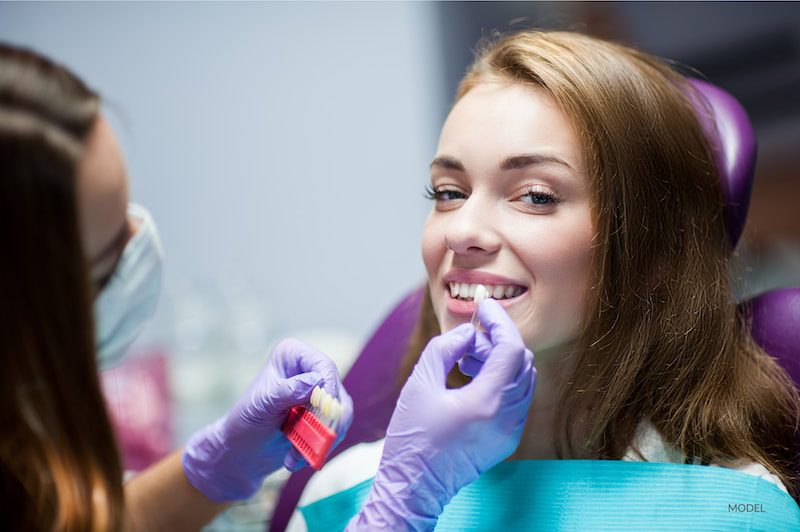 Here, dental patients can learn more about why a patient should receive crown lengthening for cosmetic enhancements and more successful results in dental restorations.
How Can Crown Lengthening Improve My Smile?
Crown lengthening is chosen to correct a gummy smile (where gum tissue covers too much of the tooth). While this may not sound like it would be a significant concern, those with too much gum tissue often appear as though they have teeth that are too small for their mouths. 
During the dental crown lengthening procedure, the excess gum tissue is removed to expose more of the natural tooth. Crown lengthening can correct one or several teeth to expose a fuller, broad smile.
Crown lengthening may also reshape the bone (if necessary) to reveal more of the tooth.
How Can Crown Lengthening Improve Dental Restorations?
Crown lengthening is necessary when there isn't enough of the tooth structure in place to hold the crown or bridge on its own. This often occurs when a tooth cracks or breaks close to or beneath the gum line. 
Crown lengthening may also be used when there are deep cavities beneath the gum line that can still be treated if a bit more of the tooth were exposed. Crown lengthening will adjust the gum and bone level to expose more of the tooth so it can be restored.
In many instances, crown lengthening procedure will allow a tooth to be saved rather than be extracted and replaced with dental implants. 
Is Dental Crown Lengthening Safe?
Crown lengthening is a common, simple, and safe procedure that offers both cosmetic and functional benefits. Whether you are wanting to improve your smile or this treatment is necessary for another restoration to be possible, crown lengthening is essential.
If the elimination of gum tissue is required, Dr. Salamati's expertise as a periodontist is sure to ensure a safe procedure and recovery. 
While this treatment does not require any downtime, lingering pain after the procedure can easily be managed with over-the-counter pain medication. 
Dr. Salamati will carefully prepare you and walk you through the recovery process for dental crown lengthening during your initial consultation. 
Want to Learn More?
If you are interested in learning more about crown lengthening with Dr. Salamati, contact our office by calling (310) 275-1090 or filling out our online contact form.