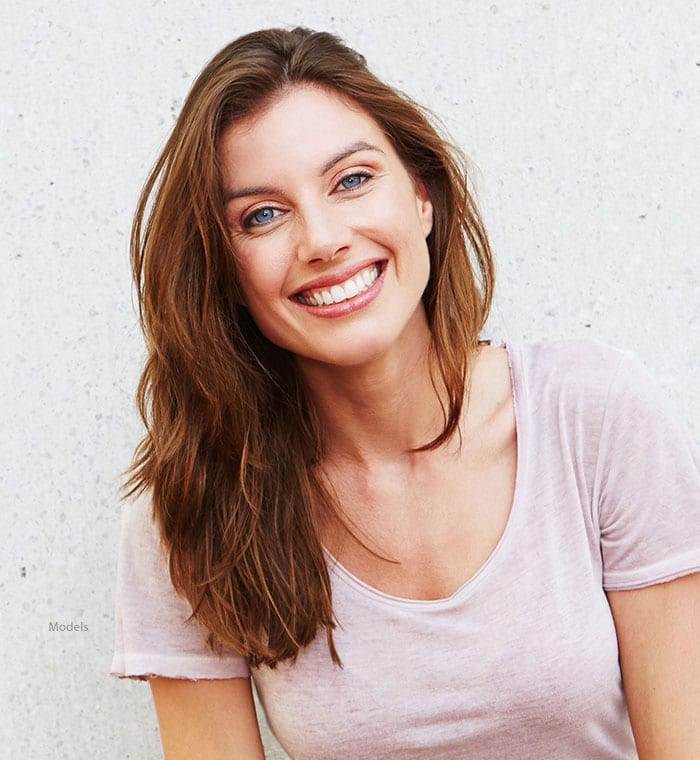 Tooth Replacement Surgery
Your smile is usually the first facial feature people notice. When you have a gap between your teeth, you may encounter issues with eating and chewing or be embarrassed by your smile. Tooth replacement surgery replaces the teeth and roots you have lost with artificial substitutes, restoring a full, healthy smile that will boost your self-confidence.
Schedule a Consultation
Benefits of Tooth Replacement With Implants
A Natural Appearance
Thanks to modern advancements in technology, tooth replacements can now provide a completely natural look. Many shading options are available to match the surrounding teeth and avoid obvious differences in color.
Functionality and Comfortability
Chewing is not an issue with dental implants because they are designed to withstand the normal daily functions that your regular teeth endure. Each implant and crown or implant-supported bridge is crafted to fit with your other teeth for a smooth transition.
Supported Bone Structure
Because a dental implant will replace your tooth root, the bone is better preserved than with a bridge. Dental implants integrate with your jawbone and prevent atrophy by stimulating the jawbone as you chew, which keeps the bone healthy and intact.
Tooth Replacement Options
Replacing a Single Tooth
Using an implant and crown for a single tooth replacement rather than using a tooth-supported fixed bridge prevents the adjacent teeth from needing to be ground down to support a bridge. The implant process begins with a titanium screw-shaped implant being positioned into the jawbone beneath the gum line to allow replacement teeth to be mounted. For the next two to six months, the implant and the bone are allowed to heal and form a bond, which creates an anchor for your new tooth. Temporary replacements can be worn over the implant site during this time.
Occasionally, an additional step is necessary to uncover the implant and attach an extension. An abutment, or a small metal post, establishes the final foundation for your new tooth placement, which can consist of titanium, gold, or porcelain. Your gums are then given time to heal for a few weeks following this technique. Some one-stage implant systems do not require the second step since they utilize an implant with the extension piece already attached. Your periodontist can advise you on which method is best for you.
Finally, your replacement tooth, known as the crown, is created by your dentist and attached to the abutment for a long-lasting solution.
Replacing Several Teeth
This process begins with titanium implants, which have a screw-shaped appearance, being introduced into the jaw. The implants and the bone are left to adhere together for two to six months to create anchors. During this time, a temporary replacement can be worn over the implant sites to prevent discomfort.
Occasionally, an additional step is necessary to uncover the implants and attach extensions. Small metal posts (abutments) can be applied to complete the foundation for your new teeth placement. Your gums are then given a resting period of a few weeks to heal from this process. There are some implant systems, known as one-stage, that do not require the second step because an implant that already has the extension piece attached is used.
Finally, replacement teeth (bridges) will be customized and attached to the abutments. The end result is a fuller, long-lasting smile.
Replacing All of Your Teeth
Implant-supported full bridges and implant-supported dentures are both designed to be long-lasting solutions. Full bridges and dentures supported by implants are comfortable and stable, improving upon conventional dentures to allow a natural biting and chewing capacity.
First, titanium implants with a screw-like appearance are inserted into your jawbone. For the next two to six months, the implants and jawbone are left to bond together and produce anchors for your artificial teeth. Temporary replacements can be worn to cover the implant area during this time.
A second step in the procedure may be necessary to temporarily expose the implants to attach the extensions. The foundation of your new smile is composed of small metal posts (abutments) and multiple connecting devices that attach the crowns to the implants. A waiting period of a few weeks allows for healing in the gums before the next step. Some implant systems, known as one-stage, do not require an extension attachment step. These systems utilize an implant with the extension piece already attached.
Depending on the number of implants being added, the connecting device that will hold your new teeth can be tightened onto the implant, or it may be attached to a bar or a circular ball anchor to which a denture snaps on and off.
Finally, full bridges or dentures will be created for you and attached to your implants or the connecting device.
Bone grafting and jawbone preservation are sometimes necessary if a portion of the bone has disintegrated due to damage, which is a common result of tooth loss. A dental implant requires sufficient bone strength and health to hold the implant.
Concerns
Recovery and Post-treatment Care Recovery and Post-treatment Care
There is no downtime required after any of the steps in this procedure. Most patients resume work and daily activities the following day.
Your natural teeth require consistent home oral care and regular dental visits, and dental implants are no different. The same care will be necessary for your artificial teeth to maintain cleanliness and avoid plaque or other issues. Daily brushing, flossing, and scheduling dental appointments are essential.
After treatment, Dr. Salamati works with you and your dentist to determine an optimal care plan. Periodic follow-up visits are later scheduled to monitor your implant, teeth, and gums to ensure your teeth are healthy.
Pain Pain
Local anesthesia is typically used for the entire duration of the procedure, and intravenous (IV) conscious sedation and general anesthesia are also available. Patients may experience discomfort in the gums, bruising, irritation at the implant site, and mild bleeding. Pain can be managed with over-the-counter medication.
Cost Cost
Pricing for dental implants varies depending on the implant location, the implant and porcelain crown materials, bone grafting (if necessary), anesthesia, how many teeth are being replaced, dental health conditions, pre-surgical and post-surgical dental care, and doctor's fees. Dr. Salamati provides an accurate cost estimate during the consultation. Insurance may cover a portion of your implants, and healthcare credit companies commonly offer low-interest loans.
Results Results
After a short time, most patients experience restored confidence in their smiles and an improved ability to chew and speak. Implants are a long-lasting solution without the hassles of traditional bridges or dentures.
Frequently Asked Questions